About KFS
"To provide resources to enhance education and encourage individual success for the students of Knappa Schools."
Our History
The Knappa Schools Foundation (KSF) was founded in 1997. Knappa School District had recently become independent from Columbia 5J and community leaders were intent on seeing the district be successful. Out of that concern, which reflected the sentiment of the entire community, KSF was born. The organization was modeled after the long-standing Astoria Schools Foundation with the help of their President Michael Foster.
Our Mission
"To provide resources to enhance education and encourage individual success for the students of Knappa Schools."
Now in its 25th year, KSF has been very successful in its efforts to improve the quality of education in our community. Funds raised through the annual dinner and auction have been used in a three-point approach to fulfilling our mission statement. First, KSF awards scholarships each year to deserving students entering that critical first year of post-secondary education. To date those scholarships total over $498,150. Secondly, KSF awards mini-grants to encourage innovation in the classroom and access to technology. Lastly, KSF has continually invested portions of the fundraising revenue since its inception. Foundation assets now total over $1.7 million. These invested assets will be enhancing and encouraging Knappa schools and its students into perpetuity.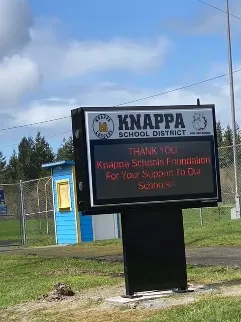 In 2022, Senior Scholarships
Recipients of scholarships awarded since 1997
Scholarships awarded since 1997
In grants awarded since 1998
Sara grew up in Brownsmead on a dairy farm owned by her parents, Joe and Sally Rohne. As a first-generation American on her Dad's side, her parents were adamant that their children learned the value of hard work and the importance of a good education. Joe and Sally felt that their kids had all the opportunities in the world, and that they were very lucky to be part of such a special community.
After graduating from Knappa High School, Sara attended Pacific University in Forest Grove. She immediately began her career working as a Financial Services Professional in 1993. In building her clientele, she focused on the community that she still feels devoted to. Though Sara lives with her family in Portland, she is in Clatsop County every week working with clients. It was this continued connection that led her to the Knappa Schools Foundation. She was invited to become a board member in 1998 and has served ever since. It is her goal and passion to see Knappa's kids have the same opportunities to learn and excel that children in larger districts have. Sara is so proud to be a part of this wonderful organization!
Anita was born and raised in Clatsop County. She graduated from Knappa High school and went on to attend Oregon State University, graduating with a B.A. in Education. Anita moved back to Clatsop County and married her husband James, where they settled in Knappa and raised their three children. Anita's kids were the third generation in her family to graduate from KHS. She is so proud to be a part of this community its schools. Anita  served on the Knappa School Board for several years, but her service came to an end when she resumed working for the school district as a substitute. She feels that the Knappa Schools Foundation is an important asset to our schools and offers another way for her to contribute to our schools and her grandchildren's future education!
Tereasa K. Taylor
Secretary
Tereasa moved to Knappa when she was a year old.  She attended Knappa Schools, graduating in 1984.  Soon after graduating she attended Clatsop Community College pursuing a Business Degree. She married her high school sweetheart, Mike, and raised two children here in Knappa.  Tereasa has been the Office Manager for Autio Company for over 21 years.  A company that encourages and supports involvement in our community.  She became a board member in 2017, excited to be a part of a team that has a heart for our children and their future.
Brian Montgomery
Treasurer
As were many current and former Board members, Brian was born and raised in Knappa and he attended Knappa schools. After graduating as the Valedictorian in 2006 Brian moved on to Oregon State University, earning a B.S. in Accounting. Upon graduation from OSU Brian accepted a finance role with Georgia-Pacific at the Wauna location, allowing him to move back to his hometown. Since moving home Brian has been involved in the community through volunteer coaching at the youth and high school levels, and became a Board member in 2013. Brian currently resides in Knappa with his wife Katie.
Like many generations of her family, Tonya was born and raised in Knappa and graduated from Knappa High School in 2003. After attending Oregon State University, she transferred to the University of Portland on a full academic scholarship to earn her Bachelor's of Science in Nursing. Since 2007, Tonya has worked as a Labor & Delivery RN and is a certified Childbirth Educator and Lactation Consultant. Her passion for health, families, and community has also led her to work for the local health department. Tonya and her husband – a KHS alum and teacher – reside in Knappa with their children who attend Knappa Schools.
Tonya is very thankful for the opportunities she had in academics, sports, 4-H, and other extracurricular activities while growing up in Knappa. She has served on the Knappa Schools Foundation Board since 2012. Tonya feels the Knappa community genuinely empowers and supports it's youth and she is excited to do just that through her role on the board.
Kristina Weichal was born and raised in Knappa and graduated from Knappa High School in 2004. She currently works at Columbia Memorial Hospital as a Commercial Biller and lives in Knappa with her husband Jon and daughter, Bristol, who is currently in the 5th grade at Hilda Lahti. They enjoy attending many school sporting events, softball with the North Coast Merchants and spending family time kayaking and enjoying the woods. Kristina also serves on the Astoria Regatta Education Board, Columbia Memorial Hospital Friends Fund Committee as well as the Planetree Committee.
Ben was born and raised in Brownsmead, and is a class of 2000 graduate of Knappa High School.  After graduating from Knappa, Ben attended Clatsop Community College for one year before transferring to Western Oregon University.  Ben graduated with honors from WOU in 2004 with a bachelors of science in psychology. Ben moved back to Clatsop County in 2006 to work at Tongue Point Job Corps Center.  Ben left TPJCC in 2018 and now works for Clatsop Community College as the Director of Advising Services.  Ben loves working in higher education and enjoys working with local students to help them with their post high school plans.  Ben lives in Astoria with his wife Carrie – a Hilda Lahti Elementary teacher – and daughter Lucy. As a KHS alum, Ben is excited to give back to his community by supporting all students and teachers in the Knappa School District.
Julie Denny moved to Knappa in 1976 and attended Hilda Lahti from 4th to 8th grade and graduated from Knappa High School in 1983. She and her husband,  Mike, have lived in Knappa for 27 years. They have one daughter, Katie, that graduated in 2020. Julie has been employed by the Wauna Mill for 38 years.
Jeanne Windsor
Executive Director
Jeanne moved to Knappa in March of 1997.  She became a Knappa Schools Foundation Board member in 2005.  She has had several successful businesses including "A Taste of Heaven" coffee shop in Knappa, as well as a catering business and 6-year Food Service contract with Clatsop Community College.  She was the Chief Operating Officer for National Insurance Consultants from 2009 until 2012.   She recently retired from Teevin Bros. Land & Timber where she was the Director of Human Resources and was also employed as the General Manager of the Logger Restaurant.  Jeanne resigned from the board of directors in October of 2021 and began working part-time as the Executive Director to the Board of Directors.